The Hong Kong Polytechnic University (Western Canada) Association
E-mail:
polyuwca@gmail.com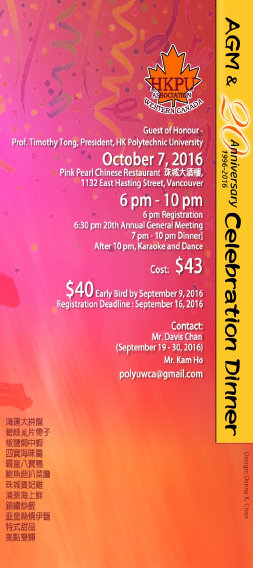 2778 West 41st Avenue Vancouver, BC
V6N 3C4
Canada
Dear Members,
As you have already learnt before, the "Alumni Atrium" - an alumni hub that facilitates exchange, cultivates friendships and fosters partnerships, is underway. The Alumni Atrium also offers opportunity for alumni to create a legacy and give back to their alumni mater. As a tribute to the Association/ alumni who donate to support PolyU's development, their names will be displayed on some specially designed nameplates placed inside the Alumni Atrium. Details can be found below and at
http://www.polyu.edu.hk/aado/alumni_atrium/special_nameplates
To commemorate our 20th Anniversary, the Association would like to support our Alma Mater's development and put our name "Hong Kong Polytechnic University (Western Canada)" in the Alumni Atrium. We hope that with the concerted efforts from all of our members, we can put a wooden nameplate (HK$28,000 or CAD$4,700) in the Alumni Atrium. To enable us to achieve this, the Board of Directors recommended that the contribution will be C$50 each. With 70 members' contributions, our name will be ready for display at the Alumni Atrium at the official opening ceremony scheduled on November 25, 2016.
I sincerely invite you in supporting the University Development. To facilitate the process, a donation form is attached so that you can complete and return it to the Association together with a cheque addressed to "Hong Kong Polytechnic University (Western Canada) Association" on or before September 3, 2016. You can make more than one contributions.
We look forward to your support. Thank you!